Explore our Beautiful Texas Parks: Near Katy, La Porte, Missouri City, and Conroe
Happy National Parks & Recreation Month
It's the perfect time to celebrate the beauty of nature and the importance of outdoor recreation. While the cities of Katy, La Porte, Missouri City, and Conroe in Texas may not have national parks of their own, there are still incredible natural treasures waiting for you to discover.
Join us on a journey through renowned parks and outdoor havens in the vicinity as we embrace the spirit of this special month. Let's discover the wonders that await while keeping safety in mind for a memorable adventure.
George Bush Park: A Nature Oasis in Katy
Nestled in western Houston, George Bush Park is an urban escape that promises a delightful blend of nature and tranquility.
As you explore this expansive park, be prepared to encounter lush greenery, serene fishing ponds, and winding trails perfect for hiking or biking.
The on-site shooting range is available for those interested in some target practice.
Location: 16756 Westheimer Parkway, Houston, Texas 77082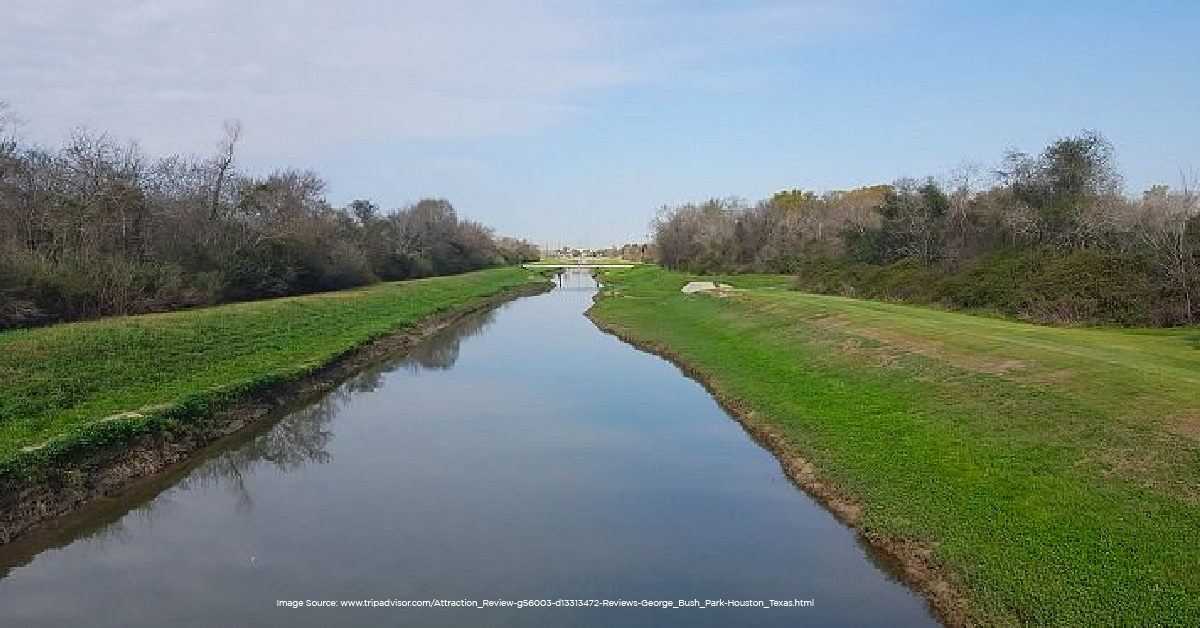 Sylvan Beach Park: A Coastal Haven in La Porte
Sylvan Beach Park in La Porte is a must-visit destination for those seeking a coastal retreat with two pristine white sand beaches, fishing piers, and picnic areas.
This waterfront park is an idyllic spot to unwind and soak up the sun. Bring your family and friends along for a day of swimming, beachcombing, or simply enjoying a picnic amidst breathtaking bay views.
The park's playgrounds and pavilion make it an ideal spot for kids to burn off some energy.
Location: 636 N. Bayshore Dr., La Porte, TX 77571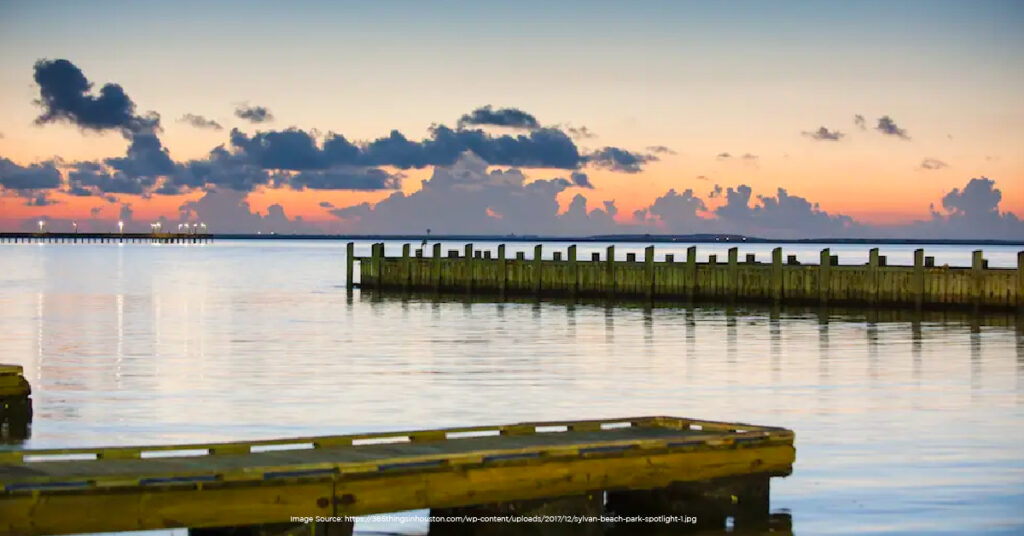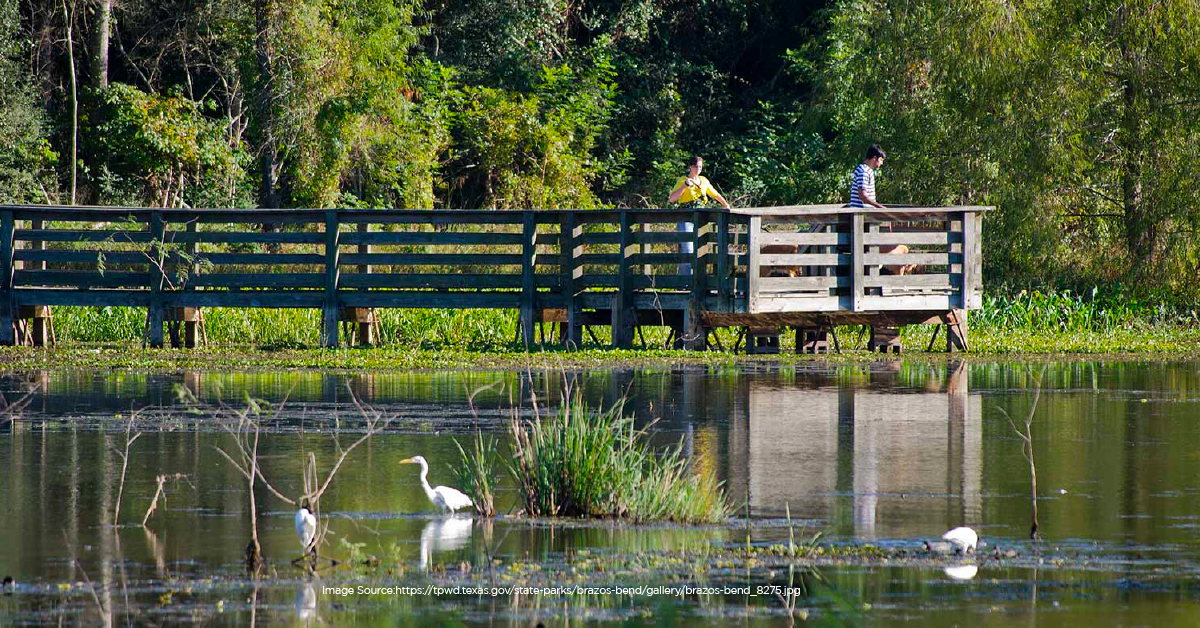 Brazos Bend State Park: Embrace Nature Near Missouri City
Just a short drive southwest of Missouri City lies Brazos Bend State Park, a nature lover's paradise.
This sprawling park boasts diverse wildlife and captivating wetland habitats. Lace-up your hiking boots or hop on your bike to explore the scenic trails that wind through the park's picturesque landscape. Fishing enthusiasts will find solace in the park's tranquil lakes, while wildlife enthusiasts can spot alligators, birds, and other creatures in their natural habitats.
If you're into stargazing, you must visit the George Observatory for a celestial experience of a lifetime.
Location: 21901 FM 762 Needville, TX 77461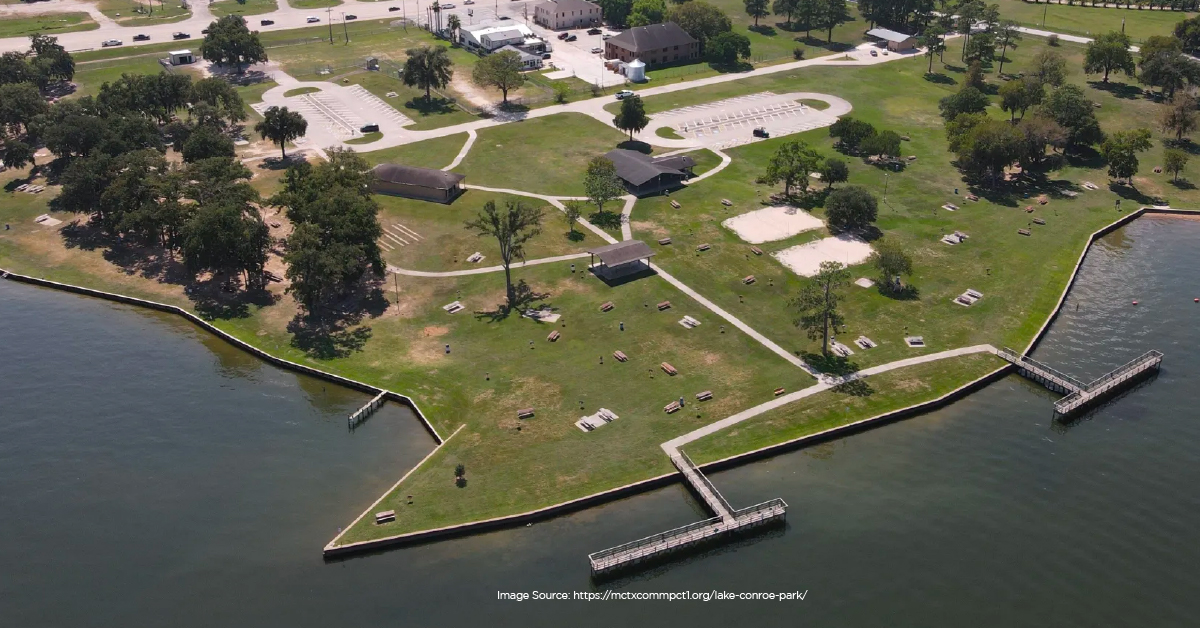 Lake Conroe Park: Lakeside Bliss in Conroe
Situated on the west shores of Lake Conroe, this park offers endless opportunities for outdoor fun.
Cool off in the sparkling waters, cast your line for some fishing, or embark on a boating adventure. Lake Conroe Park is perfect for picnics, with shaded areas and lush green spaces.
If you're looking for a weekend getaway, consider camping under the stars and waking up to the serene beauty of the lake. This is a fantastic destination for water sports enthusiasts and nature lovers alike.
Location: 14968 Hwy 105 West, Montgomery, TX 77356
As you embark on your outdoor excursions, it's crucial to prioritize safety. Here are a few general safety tips to keep in mind:
Stay hydrated: Texas summers can be scorching, so make sure to carry plenty of water to stay hydrated throughout your park visits.
Dress appropriately: Wear comfortable clothing, sturdy shoes, and don't forget to bring insect repellent, your hat, sunglasses, and sunscreen to protect yourself from the sun.
Be aware of wildlife: While observing nature is fascinating, keep a safe distance and never feed or approach wild animals.
Plan ahead: Check park regulations, trail conditions, and weather forecasts before leaving. Always let someone know about your plans and expected return time.
Where to Go When An Emergency Strikes
Despite taking all the necessary precautions, emergencies can still happen.
In case of a medical emergency during your outdoor adventures, Rapid Care ER is your trusted local emergency care provider.
All our facilities are available 24/7, ready to offer comprehensive and prompt medical attention. Whether it's a sudden injury, allergic reaction, or other urgent medical needs, the experienced professionals at Rapid Care ER are here to provide you with the highest quality care.
All RapidCare Emergency Room locations in La Porte, Katy, Missouri City/Sugar Land, and Conroe/Montgomery are open 24/7 every day of the year including holidays.  We're here to help you and your family get well fast!