Here's your chance to win a romantic Valentine's Dinner on Us at the Luxurious
Ciel Restaurant!
February is all about the heart.  This month we celebrate American Heart Month and Valentine's Day.  At RapidCare Emergency Room, we're all heart!  We care about our patients and the communities that we serve.  As a token of our appreciation, we're going to treat on lucky couple to one a romantic dinner to the elegant Ciel Restaurant & Lounge in Houston.  Enter our Free Valentine's Dinner for Two Giveaway and you could be the winner!  It's very easy to participate and best of all, it's completely free.
How to Participate in the Free Valentine's Dinner for Two Giveaway
You may participate through Facebook, Instagram, or both!  Invite your friends to participate, the more the merrier!
How to Participate Through Facebook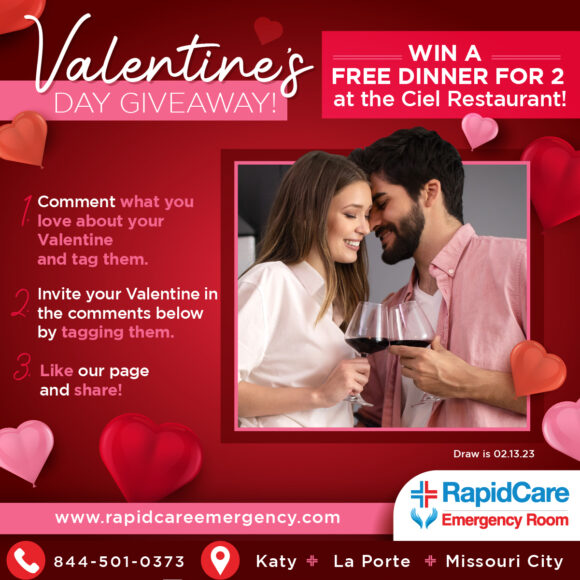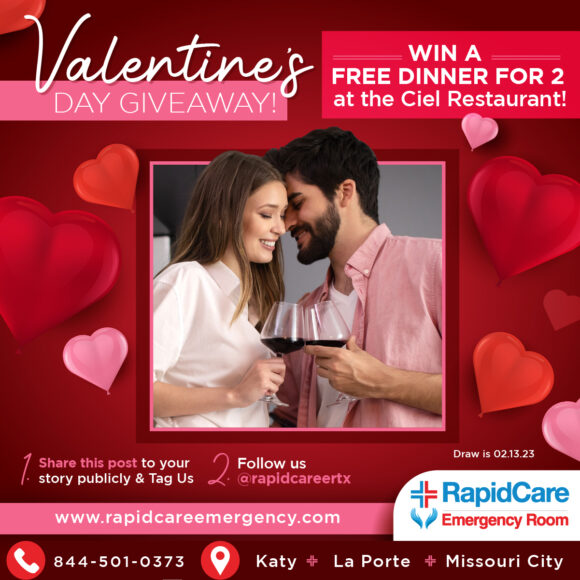 How to Participate Through Instagram
Terms and Conditions
In order to receive your prize, the winner must visit RapidCare Emergency Room with a valid photo ID.
The following are not eligible to participate in the contest: employees of the company, affiliates, or any agency working with the company, and their immediate families.
RapidCare Emergency Room is not liable should the Social Media site experience any issues or downtime.
Any disputes relating to eligibility will be determined solely by RapidCare Emergency Room.
RapidCare Emergency Room reserves the right to modify or discontinue this program at any time without prior notice.
The Raffle Draw (cutoff date) will take place on 2-13-2023.